Harvest celebration
Abby Brook
We were thankful to our Heavenly Father for giving us a warm, dry place to gather on Sunday morning, both regulars and visitors, to celebrate God's creation and provision and to marvel at the amazing way he's created the plants to re-seed.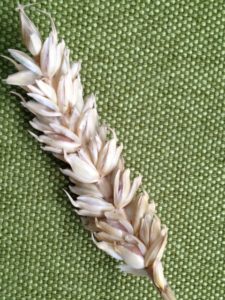 "Unless a grain of wheat falls to the ground and dies, it remains only a single seed.  But if it dies, it produces many seeds",
we read together from John 12:24 and thought Jesus using this truth from nature to show what would be achieved by his death, and also how God can use us when we are willing to let go of our own efforts and let him put his life in us.
It was great to see the banner made by the Abbey Tots last Thursday, as they'd spent 2 story times learning "God made everything" and "God made a
nd loves  everyone and he is really glad when we share" and picturing this in craft.
The non-perishable gifts – both food and non-food – brought on Sunday have been taken to Gloucester City Mission to be shared with the homeless and vulnerable; ,money given by those who took the fresh donations will also be passed onto GCM.
A big thank you to those who decorated the front of the hall so beautifully.