"A Monk's Tale" Came to Gloucester
Abby Brook
On October 21st "A Monk's Tale" came to Gloucester and was hosted by Abbey Church at the King's Theatre. The night was a huge success! Last minute phone calls to buy tickets were being received and the show was soon sold out.
The event was a lot of fun for Abbey Church members and others from the Gloucester community. The show, devised by the team behind "The God Particle",  was a very fun take on the subject of the Reformation and Martin Luther's 95 Theses. The light-hearted show was both informative and entertaining about the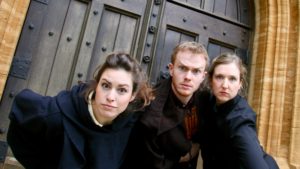 events that led up to Martin Luther writing the 95 Theses. The show was only just over an hour long, but the audience showed much enthusiasm. The cast performed a collection of fun sketches and songs while also interacting with the audience. This all led to an enjoyable evening filled with laughter and fellowship.
If you missed it in Gloucester, check out amonkstale.net for future tour dates!
By: Jen Braun