Summer HAF – Neighbourhood Chaplains
Abby Brook
Abbey Church Neighbourhood Chaplains were excited to be one of the 21 organisations across the City working together to provide just over 30,000 meals and 700 hours of activity for children and families this summer.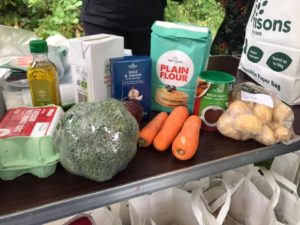 The Holiday Activities and Food Project involved us in serving hot food and giving out home cooking kits to needy families on four Tuesdays and four Thursdays in August at Glevum Open Space, and also having a great time playing football, rounders and other games and sharing craft activities with any families who wanted to join in.
We were joined by various other teams or individuals on some days – Art Party, Music Works to name just two – whose input we welcomed.
Morrisons' Community Champion, Georgia, provided generous support and donations of food and other essential items for families in need.