Nativity On A Lorry 12 and 13 December
December 12 @ 6:00 pm

-

7:45 pm
Event Navigation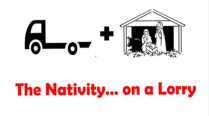 Look and listen out for our lorry spreading the message of Christmas!
We'll be giving out chocolates and invitations to our services and would love to wave to you or chat to you on your doorstep.
Tuesday: the lorry will start at Abbeydale Community Centre and drive over the Wheatway (without stopping) and then along The Richmonds to meet the walkers.
– stopping at Jasmine Close and the other Closes
– back onto Wheatway and down Mandara Grove before returning over the Wheatway.
Wednesday: again starting at Abbeydale Community Centre, the lorry will drive up Abbeymead Avenue and meet the walkers in Longborough Drive: –
– stopping in Closes off Longborough Drive
– up Abbeymead Avenue and turning into Kingscote Drive, stopping in the Closes
– up Abbeymead Avenue again and turning into Honeysuckle Drive and the Roads and Closes, finishing in Speedwell Close