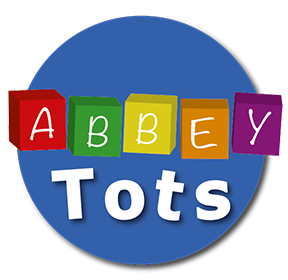 As we cannot currently meet as Abbey Tots due to COVID restrictions, we are posting weekly song and story sessions on Abbey Tots' Facebook page.
We have also started Abbey Baby Club  – which can meet –  read more below
Do you look after a baby or pre-school child?  
If you would like to meet other parents and carers at friendly sessions where your children can learn to play with others, then Abbey Tots is for you.  We encourage a sense of belonging, not just attending.
There is space and equipment for the more and the less active children and we also offer a simple craft activity most weeks and include a short Bible or other story and singing time where we sing "Happy Birthday" to any child who has a birthday that week.
We have special sessions to celebrate Christmas, Easter and to say goodbye to children going up to school. Our team of volunteers  (Charys,  Liz, Rachel, David, Jill & Jo) would love to meet you, but it would be helpful if you would ring on 07788 110602 or email office@abbeychurch.net before you come along for the first time; as we are  usually full so run a waiting list.
When? 10 – 11.30am (term-time) Thursdays
Where? Christchurch, Wheatway, Abbeydale
Do you have a baby who is not yet walking?  Are you feeling isolated and in need of meeting with a support group for new parents during school term-time?
We started Abbey Baby Club  on 15th October 2020 so that parents with young babies can meet in a support group at a time when many baby groups and activities cannot operate due to the COVID crisis.
When?  10 – 11am Thursday mornings
Where?  Abbeydale Community Centre
Cost?  £2 per family
We have to operate subject to rules about social distancing and therefore have a strict limit on the number who can attend, so if you would like to come, please use the link below to book.  It would be helpful for continuity if you could book for 6 sessions, although we will not ask you to pay for sessions that you find you can not attend.  Payment can be by bank transfer (we will send you the details by email or text, as you prefer) or by cash when you attend (exact money, please).
Please click on Abbey Baby Club on the date you wish to start attending from