Men's Weekend 2011
Administrator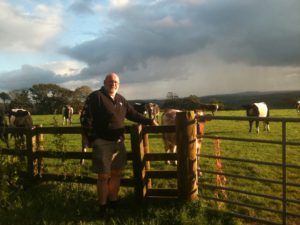 The first party consisting of myself, Mark, Colin and Martin arrived about 4pm, 'more or less' getting there without going wrong.  The objective was to get the grub ready for all the adventurers by the time the second party (Paul, James, Gordon and Steve) arrived.  So first things first, we dumped the bags and went off for a short walk 'very much' downhill into Dulverton to sample the local ale!  After the pub and a longer walk 'very much' uphill, Mark 'Heston Blumenthal' Bashford and Colin 'Galley Slave' Ward got straight to work in the kitchen.  The other half of the men arrived about 8:30pm after taking the scenic route to the barn in the dark.  We all feasted on 1.5kg of nachos and a very tasty chilli.  After stretching our tired brains with questions from my pub quiz book (we'd already stretched our stomachs!) we clambered upstairs to the 'dorm' for a much needed sleep and snoring competition.
The question on most people's minds the following morning was 'why should a cockerel crow at 4am when it's still pitch black outside?' whereas mine was 'does Paul think that "Are you awake?" is a question that makes sense if you're shouting it at the top of your voice?'.
Unbeknownst to me, in my organising I had pulled together a tight fit and well oiled unit, because as I stumbled down the stairs and opened the door into the kitchen area, before I could truly open my eyes, Heston Blumenthal shoved a piping hot cooked breakfast into my hand with the order to 'get stuck in'…..superb!
Following the meaty breakfast we sat down together to think about God's word, in particular what does Jesus as King mean?  We had a great time, with heartfelt prayers of praise at the end to finish off.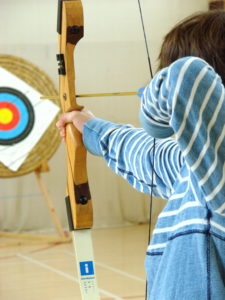 Thankfully for Gordon 'The Welshman' Davies the afternoon's activities weren't planned for the Sunday morning.  I discovered according to law that if that had been the case I would have been well within my rights to shoot an arrow at the man from Newport.  Yes, archery along with long forgotten, yet useful to know Olde English law, featured on Saturday afternoon.  After a few practice rounds with varying successes, we paired off for a bit of competition.  Now, although not being someone to blow one's own trumpet, but Darren 'William Tell' Chandler and Paul "Robin Hood" Mann played a blinder and won.
After two hours of archery,    we returned back to the barn for Blumenthal to shove a leg of pork in the oven to slow cook for the evening's feast whilst we trotted off again to the pub.  Needless to say, Galley Slave and Blumenthal left a little earlier to make sure that the feast was on track and spuds peeled etc.  The evening meal was massive, so too was the apple pie and left over carrot cake.  Galley Slave must have worked up an appetite because he managed cheese and biscuits afterwards as well!
Together, we once again turned to the bible and looked to apply what we discussed in the morning to us as men.  Everybody had something to contribute adding to what was a very enjoyable time.  Good chat and a tipple of single malt rounded off a really good day.  I know that Steve had a better night's sleep because he secured a bottom bunk bed, the previous night he feared he'd fall off the top!  The Journey home the next day was swift and made all the more satisfying because I travelled back with the left over carrot cake.  Thank God for a great weekend.  The first of many I hope…..